Thuja Supply
Regular price
Sale price
$0.00
Unit price
per
Sale
Sold out
Thuja Emerald Green
The Thuja Emerald Green, also known as Thuja occidentalis 'Emerald' or Eastern arborvitae, is a lush, vibrant evergreen that holds a prestigious standing among landscaping trees. Its elegant, conical shape and rich, emerald green foliage make it a highly coveted option for homeowners, landscapers, and green thumbs alike.
The Thuja Emerald Green tree is also commonly known as:
Emerald Arborvitae
Smaragd Arborvitae
Eastern Arborvitae (this refers to its species, Thuja occidentalis, rather than the specific 'Emerald' cultivar)
American Arborvitae
White Cedar (although this is more commonly used for the species overall, rather than the 'Emerald' cultivar specifically)
These names can vary depending on region and local common names. However, the botanical name Thuja occidentalis 'Emerald' or 'Smaragd' (Smaragd being Danish for Emerald) is universally recognized by botanists and horticulturists.
The Beauty of Thuja Emerald Green
One of the most attractive features of the Thuja Emerald Green is its strikingly beautiful foliage. This variety boasts a dense, compact growth of bright green, scale-like leaves that persist year-round, providing a continuous splash of color even in the heart of winter. Growing in a neat, natural pyramidal form, these trees require minimal pruning to maintain their shape, adding to their appeal as a low-maintenance choice.
The Thuja Emerald Green reaches a mature height of about 12-15 feet, with a spread of 3-4 feet, making it an excellent option for creating privacy screens, windbreaks, or sound barriers. Its resilient nature allows it to withstand a variety of challenging weather conditions, including wind and snow, further accentuating its suitability for these roles.
History and Heritage
Native to North America, the Thuja has a rich and storied history. The genus name 'Thuja' originates from a Greek word, 'thuya,' which means 'to fumigate,' in reference to the aromatic properties of the tree's leaves when crushed. The species name 'occidentalis' means 'of the west' in Latin, referring to the Western world as known during the time of the tree's discovery.
Historically, indigenous tribes of North America utilized different parts of the tree for their medicinal properties and as a source of Vitamin C. Today, while it is primarily valued for its ornamental appeal, the Thuja's aromatic leaves are still used in some traditional herbal remedies.
Why Choose Thuja Emerald Green
There are several key advantages to choosing Thuja Emerald Green for your landscape:
Adaptability: Thuja Emerald Green trees are adaptable to a wide range of soil conditions, and once established, they are drought-tolerant. They are hardy in USDA zones 3-7, making them suitable for a wide range of climates across the country.
Fast-Growing: This variety is fast-growing, adding up to 2 feet per year under optimal conditions. This makes them an excellent choice for homeowners seeking a fast solution for privacy or aesthetic enhancement.
Disease and Pest Resistance: Thuja Emerald Green trees have a natural resistance to many common tree diseases and pests. They are less likely to suffer from problems such as canker, leaf blight, or bagworms, that often plague other trees.
Low Maintenance: Aside from watering during dry spells, the Thuja Emerald Green requires little to no upkeep. It retains its pleasing shape without the need for regular trimming.
Bringing a Thuja Emerald Green into your landscape is more than just adding a tree; it's adding a legacy of beauty and resilience that has stood the test of time. Experience the allure of this remarkable tree and elevate your outdoor space to new heights of elegance and tranquility.
Share
View full details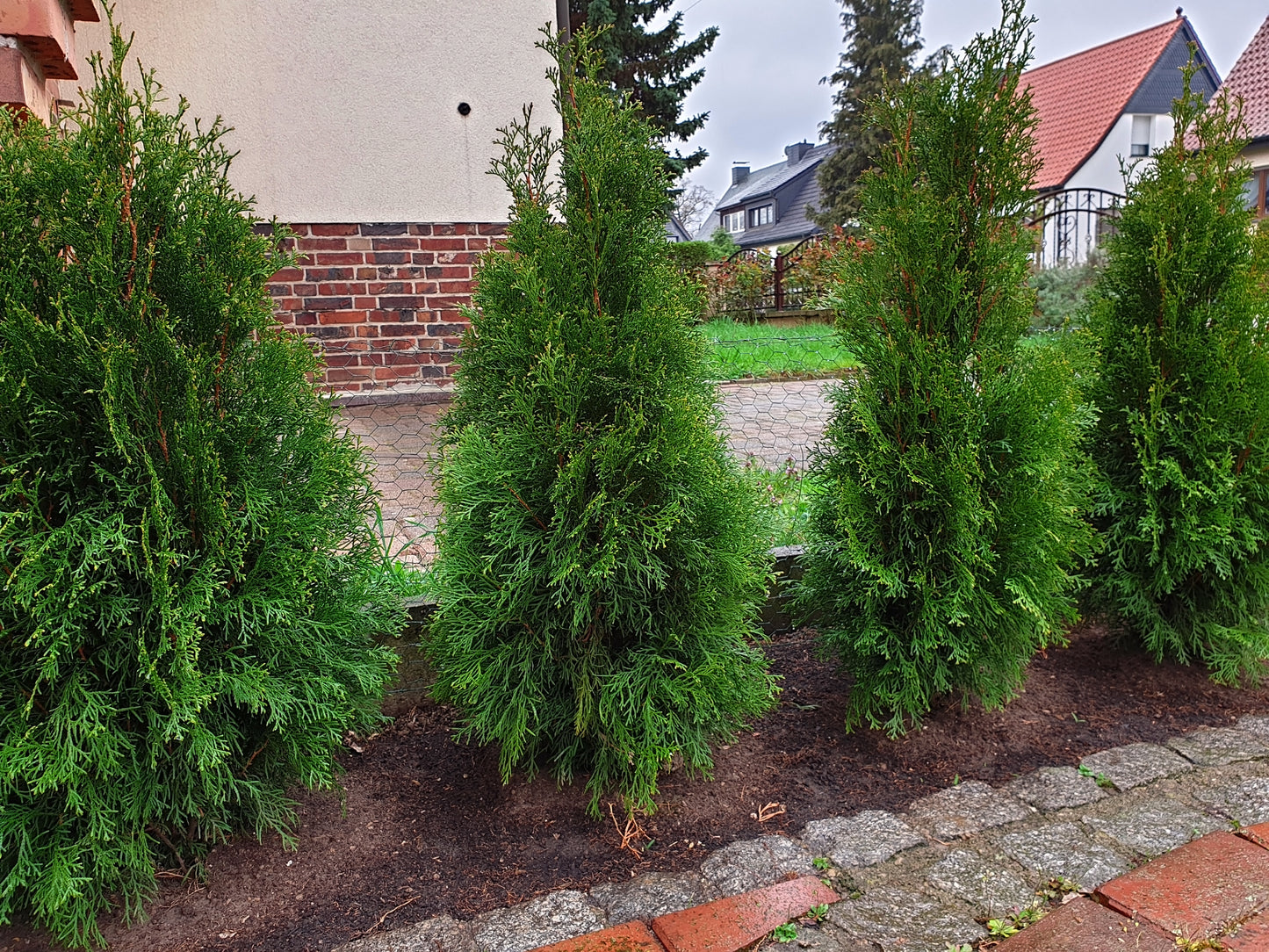 About Thuja Emerald Green
What to Know:

Perfect for Privacy: With their dense, vibrant foliage, they make excellent natural privacy screens or windbreaks, adding beauty and seclusion to your landscape.
Year-round Color: As an evergreen, the Thuja Emerald Green maintains its lush, green color throughout all four seasons, bringing life to your garden even in the coldest winters.
Fast-Growing and Low Maintenance: These trees are known for their rapid growth and low care requirements, making them a convenient and time-saving choice for busy homeowners.
Resistant to Pests and Diseases: Thuja Emerald Greens are notably resilient to common tree pests and diseases, promising longevity and health in your landscape.
Based In North Carolina

We specialize in selling Thuja Emerald Green Trees Nationwide, but are located in NC and and can ship quicly to any City or Town in NC . Below is a list of top cities inc NC with the corresponding USDA growing zones in parentheses next to each one:

Charlotte (7b)
Raleigh (7b)
Greensboro (7b)
Durham (7b)
Winston-Salem (7b)
Fayetteville (8a)
Cary (7b)
Wilmington (8b)
High Point (7b)
Greenville (8a)
Asheville (7a)
Concord (7b)
Gastonia (7b)
Jacksonville (8a)
Chapel Hill (7b)
Rocky Mount (8a)
Huntersville (7b)
Burlington (7b)
Wilson (8a)
Kannapolis (7b)
Apex (7b)
Hickory (7b)
Morrisville (7b)
Garner (7b)
Monroe (8a)
Holly Springs (7b)
Matthews (7b)
New Bern (8a)
Sanford (7b)
Statesville (7b)
Asheboro (7b)
Kinston (8a)
Carrboro (7b)
Mint Hill (7b)
Thomasville (7b)
Shelby (7a)
Lumberton (8a)
Cornelius (7b)
Lexington (7b)
Elizabeth City (8a)
Clayton (7b)
Roanoke Rapids (7a)
Hope Mills (8a)
Fuquay-Varina (7b)
Pinehurst (8a)
Newton (7b)
Smithfield (7b)
Tarboro (8a)
Washington (8a)
Henderson (7a)
Planting Zone

Versatile and Hardy: Thuja Emerald Green trees thrive in a variety of climates and conditions, adaptable to USDA Plant Hardiness Zones 3-7.
How to Plant

Select the Right Spot: Choose a location with full sun to partial shade. Ensure the site has well-draining soil.
Dig the Hole: The hole should be twice the width and the same depth as the root ball.
Place the Tree: Put the tree in the hole, making sure that the top of the root ball is level with the surrounding ground.
Backfill the Hole: Fill in the hole with the original soil, firming it gently around the base of the tree.
Water Thoroughly: Give the tree a generous watering to settle the soil and establish the roots. Continue to water regularly in the first few weeks after planting.
Benefits

The Thuja Emerald Green offers multiple benefits. Its dense foliage provides an excellent privacy screen or windbreak. As an evergreen, it adds color to your landscape year-round. The tree is fast-growing and requires little maintenance once established. Additionally, it is resistant to many common pests and diseases, ensuring its longevity in your landscape.
How We Ship

Each Thuja Emerald Green is carefully packaged and all our trees are shipped potted, we do not ship any of our trees bare root.
Timeline of the History of Thuja Emerald Green

Timeline of History

The Thuja Emerald Green, while relatively new to the scene, is a cultivar of Thuja occidentalis, a species with a rich history.

Pre-16th Century: Indigenous tribes of North America use various parts of the Thuja tree for medicinal purposes and as a source of Vitamin C.
16th Century: European explorers discover Thuja occidentalis, and it becomes known in the Western world.
20th Century: The Emerald Green cultivar is developed, likely in Denmark (hence the alternate name 'Smaragd', which means 'emerald' in Danish). It quickly gains popularity due to its vibrant color, fast growth, and hardy nature.
Today: The Thuja Emerald Green is one of the most popular choices for landscaping trees, known for its beauty, versatility, and low maintenance requirements.
Why buy Emerald Green Arborvitae from Thuja Supply?
Fast Growing

Thuja Emerald Green trees are considered fast-growing for an evergreen. They can grow on average between 3-4 feet per year once established. . It's important to remember that while they grow quickly in height, they also maintain a compact and narrow shape, making them excellent for privacy screens and hedges.

Customer Service

Quick and knowledgeable response to customer inquiries
Easy-to-use online ordering system with secure payment options
Clear and transparent return and exchange policies
R

Warranty

6 Month Warranty on all Emerald Green. We stand behind our trees, if your tree dies within 6 months we will either ship a replacement (you just pay shipping) or refund the cost of tree. We reserve the right to choose between the two option at our discretion

Free Shipping

Free Shipping on all Order over $200
We primarily ship UPS or Fedex
We will email you the tracking number for you order as soon as it ships.
Bulk Pricing Available
Check out our bulk discounts above by selecting 8 or 16 packs of trees.
Buy quantity trees for any of the following reasons:
Wholesale privacy trees
Bulk evergreen trees for privacy
Large quantity privacy trees
Mass planting privacy trees
Landscaping trees in bulk
Affordable privacy trees in bulk
Privacy trees for commercial projects
Privacy trees for large properties
Fast-growing privacy trees in bulk
Bulk purchase of tall trees for privacy.
What can Emerald Green Arborvitae be used for?
Privacy Screens: With their dense foliage and fast growth, Thuja Emerald Green trees make excellent natural screens that can block out noise, wind, and prying eyes.
Hedges and Borders: They can be used to create structured and beautiful hedges or borders around property lines or garden beds, contributing to a tidy and organized landscape.
Windbreaks: Their robustness and evergreen nature make them perfect for creating windbreaks, especially in areas prone to strong winds.
Ornamental Landscaping: Their vibrant color and attractive shape make them a popular choice for ornamental use in a variety of landscapes.
Noise Reduction: The density of these trees can help to reduce noise pollution, making them a suitable choice for properties near busy roads or commercial areas.
Wildlife Habitat: They can serve as shelter for birds and other small wildlife, enhancing the biodiversity of your garden.
Learn More